Cairns: The Fiery Past, the Lively Present, and the Hypnotic Underwater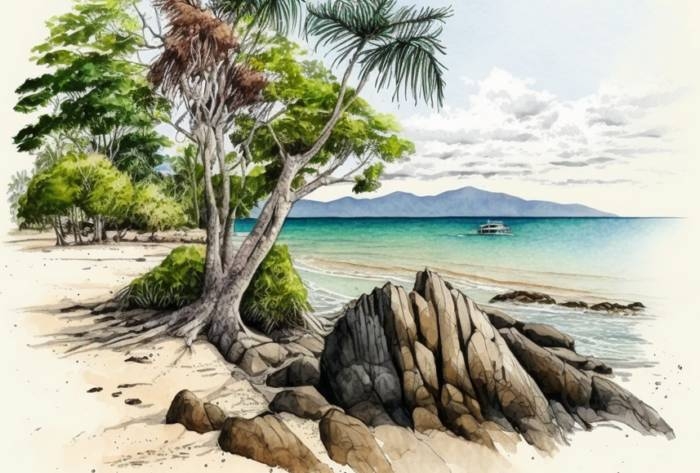 Historical Origins: A Fiery Beginning
Once upon a time, dear world traveler, in the far tropical reaches of Queensland, Australia, a young city known as Cairns took root. Founded in 1876 by Europeans for dubious reasons — it was a gold rush hub and a convenient port for exporting logs — Cairns nursed its growth from a fire-kissed land. Alas, the story goes that a Mr. Abbott saw the potential and decided to put this little nook on the map by setting fire to the surrounding bush. The smoke was so thick that it reportedly alarmed the townsfolk of Port Douglas, who thought it to be a distress call. As a result, they sent assistance, only to find Mr. Abbott grinning amid the ashes of what would become Cairns. Now, my dear wanderlust-filled friend, let us journey through this fiery city's cultural significance and attractions.
Cultural Significance: The Indigenous and the Immigrant
Before we get ahead of ourselves, let's take a moment to appreciate the rich tapestry of cultures that have woven themselves into the fabric of Cairns. The indigenous tribes of the Yirrganydji, Yidinji, and Gimuy Walubarra peoples have called this land home for thousands of years, long before Europeans sailed to its shores. In an elegant display of resilience and grace, these First Nations people remain an integral part of the community today, sharing their knowledge, history, and art with anyone curious enough to learn. And the cultural landscape doesn't end there, oh no. Immigrant settlers have left their mark on Cairns in a delightful smorgasbord of influences. Home to a bustling Chinatown in the early 20th century, the city continues to celebrate its Chinese heritage with the annual Cairns Chinese New Year Festival. Lest we forget the Italian and Greek immigrants, who brought with them the art of espresso and the mouthwatering scents wafting from family-run kitchens.
The Great Barrier Reef: A Hypnotic Underwater World
Now, it is time to dive headfirst into the pièce de résistance of Cairns: the Great Barrier Reef. Containing the world's largest collection of coral reefs, this majestic underwater kingdom spans over 2,300 kilometers (1,430 miles), enticing adventurers like yourself from every corner of the globe. As you descend into the depths of the Coral Sea, you'll be greeted by a kaleidoscope of colors and shapes, with more than 600 types of coral and an estimated 1,625 species of fish calling this aquatic wonderland home. But wait, there's more! The Great Barrier Reef is not just a feast for the eyes; it's also a vital ecosystem that supports an array of marine life, from sea turtles and sharks to whales and dolphins. In fact, it is the only living structure that can be seen from space, and it includes not one, not two, but 900 islands — a true testament to Mother Nature's boundless creativity.
Rainforests and Railway Adventures: Into the Wild
For those who prefer a terrestrial journey, fret not, Cairns has you covered. Head north to the ancient Daintree Rainforest, where the branches form a canopy so dense, sunlight barely filters through. The air is thick with the scent of damp earth and a cacophony of bird calls, and it is not uncommon for a cassowary or two to make an appearance, strutting about like the prehistoric creature it is. And speaking of prehistoric, feel free to step back in time on the Kuranda Scenic Railway, a veritable journey to the center of the Earth. As you chug along in your antique train, you'll pass through hand-hewn tunnels, marvel at towering waterfalls, and traverse the Barron Gorge, its sheer cliffs challenging the very train you ride in. Disembark at the enchanting village of Kuranda, and indulge in some retail therapy or perhaps a leisured stroll through the butterfly sanctuary.
A Slice of Paradise: Cairns' Beaches
Let us now whisk you away to paradise with a visit to the sparkling beaches of Cairns. Though swimming is not recommended due to the presence of crocodiles and jellyfish (oh my!), these sandy shores are perfect for sunbathing, picnicking, and general lazing about. For a truly blissful experience, hop on a ferry to Fitzroy Island, where the sand is composed of coral, giving it a unique texture that squeaks delightfully beneath your toes. Here, you can snorkel, paddleboard or simply bask in the sun and let the gentle lapping of waves lull you into a state of absolute relaxation.
So, Why Cairns?
With its fiery history, rich cultural tapestry, and mesmerizing natural wonders, Cairns, Queensland, offers more than just a getaway; it's an unforgettable adventure for the senses. So go on, brave traveler, discover the joys of Cairns, and may your journey be filled with laughter, surprise, and a renewed appreciation for this wild and wonderful world we inhabit.